A young prophet with a Twitter handle @Rhadebelihle has once predicted Shona Ferguson's death. Ferguson passed away on Friday 30 July at the age of 47 due to COVID-19 complications at the MilPark Hospital in Johannesburg. The alleged prophet says he foresaw the Rockville actor and Ferguson Films co-owner's death and even tried to reach out to Shona's wife, Connie Ferguson, on Twitter by tagging her at the time.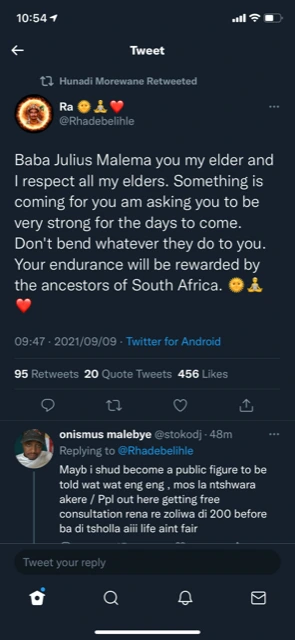 The 'Rha' as he calls himself, has released a statement about Julius Malema stating that something is coming for the EFF leader Julius. The prophet tweet " Baba Julius Malema you my elder and I respect all my elders. Something is coming for you am asking you to be very strong for the days to come. Don't bend whatever they do to you. Your endurance will be rewarded by the ancestors of South Africa."
The Prophet once released a prophetic word that came to pass concerning two amapianos who passed away yesterday due to accident; too accurate is the prophet that he said two painful deaths still to grip South Africa in his prophecy.
Julius Malema has been tagged under the post and hasn't responded yet. Knowing the predictions of prophet Rha do come to pass we hope Julius sees the message and takes heart.